Mar 21 2010
Mackenzie's 8th birthday and some other good news
Tripawds is a user-supported community. Thank you for your support!
Yesterday was Mackenzie's 8th birthday!!!  As I've mentioned before, when she was first diagnosed in September I wasn't sure if I'd ever see this day.  But now it has come and gone and I'm truly happy for that.  I tried to take some pictures with her birthday hat on but wasn't very successful cause her little brother kept pulling it off her head and playing with it like a toy.  So it's now a soggy slobbery birthday hat that she really doesn't like to wear anyway.  I did capture one moment …but I could tell Mackenzie just really wasn't into this party thing. So for all you tripawds out there, Mackenzie's birthday gives you a great reason to ask for more treats! Yea!!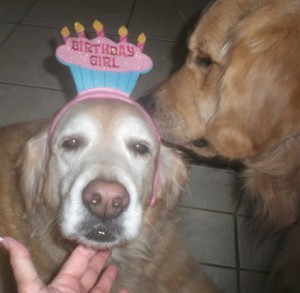 I also got some other good news on Mackenzie.  Her protein levels in her urine had been elevated and the doctor was concerned so didn't want to do her last chemo treatment as a result.  After several tests later, and finally doing a culture, it turns out that Mackenzie has a Urinary Tract Infection which was causing this.  So now she's on some heavy duty antibiotics.  I now need to talk to the doctor to see if she recommends doing this last chemo treatment afterall.   Mackenzie's been feeling so good and doing so well these days that I hate to interfere with her progress.  But maybe this last one will do the trick or some trick of sorts.  Such dilemmas we tripawd pawrents face.  Will think about all of this tomorrow.  Until then I'm just going to enjoy being with my puppies and celebrating a very special birthday this weekend.
P.S. I will be uploading some videos as soon as I've figure out how to do this since these files are so large 🙁